G'day possums!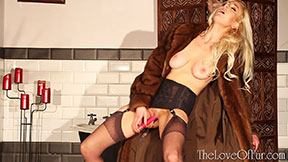 This week's release at The Love Of Fur stars Sapphire Blue showing her caring side. Maid Sapphire is cleaning up after a busy night for her ladyship. The bathroom is a mess but first she has to clean her employer's mink coat: luckily Sapphire knows just how to look after it, but what would such a willing young servant do with such a fur of her own? Time for our sexy maid to show you, stripping out of her skimpy outfit and finding a sex toy to indulge her dirtiest desires right there in the bathroom! Good thing she knows how to clean such prized possessions!
Click JOIN NOW to sign up and see this video in full along with all of our other fur fetish scenes. With one hot update every week and our stunning girls only wearing real fur, you can't get more fur fetish thrills anywhere else!
More from us next week on Monday 2nd February so see you all then! It's still a good time though to join us and find out more about the rest of our winter warmers to come! Visit us too at our own fur fetish forum where you can discuss our scenes and what you want from our sexy women in their fabulous furs in the months ahead!