Hello my favourite fur fan! Yes, you!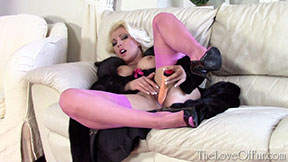 Our new video at The Love Of Fur this week is a special treat just for you! Your favourite fur loving model Lana Cox has shot a personal video for you to thank you for her new mink fur coat gift. After modelling it for you, she shows you what lies beneath it: a sexy corset, pink stockings, high heels and little else. The she slides back onto the couch to show you how much she loves her new fur coat. Her thick sex toy helps her satisfy her love for her new fur too – until you get back home to join her, that is!
Click JOIN NOW to sign up and see this video in full along with all of our other fur fetish scenes. With one hot update every week and our stunning girls only wearing real fur, you can't get more fur fetish thrills anywhere else!
See you all next week when summer just keeps getting hotter here! It may be getting much warmer now but it's still a great time though to join us and find out more about our love for fur. Visit us too at our own fur fetish forum where you can discuss our scenes and what you want from our sexy women in their fabulous furs in the months ahead!