Do you remember your first time?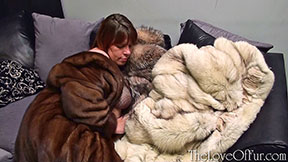 This week's fur fetish video at The Love Of Fur sees our mature buxom newcomer Slave Scarlett experiencing her first touch of fur ever. Settling into her first shoot, she finds some furs in the studio dressing room so takes her time to feel and caress them. Starting in her fishnet top and a blue fox coat, she slowly strokes and feels the other mink and fox jacket in the room, trying them on for their touch, sensuality and glamour. You know what the love of fur meant to you on your first time: now so does lucky Scarlett!
Click JOIN NOW to sign up and see this video in full along with all of our other fur fetish scenes. With one hot update every week and our stunning girls only wearing real fur, you can't get more fur fetish thrills anywhere else!
Join us next time for more furry sexiness from the gorgeous Samantha Alexandra. We're already starting to gear up for our autumn shoots and hopefully the return of a couple of well-loved girls from the past. Do remember too to tell us what you think about our new look website – and more extra little features are being rolled out in the next few weeks for members. Please contact us if you have any suggestions or problems with it.
It's still a great time to join us at our own fur fetish forum too! While other fur forums may be floundering, come on by and discuss our scenes and what you want from our hot girls in fur in the months ahead!