Hello everyone – still enjoying summer?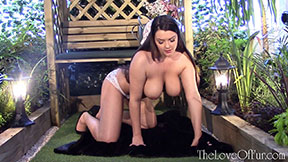 Our latest update at The Love of Fur stars our curvy bubbly brunette Cherry Blush all alone in the garden waiting for her boyfriend. It is a warm day though so although she and he both love fur she is only in a sexy bra and panties set and heels underneath her sleek black mink coat. But it is not just the summer sun raising her temperature: her hot mink is doing that well enough too! Slipping out of her mink and lingerie is the best way for her to cool down and wait for her boyfriend to join her – although that just brings out her passions even more! What a perfect way to enjoy a lazy summer afternoon outdoors!
Click JOIN NOW to sign up and see this video in full along with all of our other fur fetish scenes. With one hot update every week and our stunning girls only wearing real fur, you can't get more fur fetish thrills anywhere else!
See you all next week as summer starts to fade and fall beckons, but that just means we are getting all the nearer to fur season proper again! Join us and find out more about our love for fur and the winter treats to come! Visit us too at our own fur fetish forum where you can discuss our scenes and what you want from our sexy women in their fabulous furs in the months ahead!