Fancy a trip back to lovely Lana's bedroom? Course you do!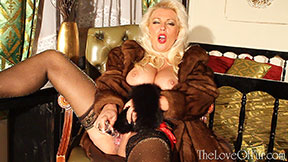 In our new update at The Love Of Fur this week we return to the bedroom with the gorgeous Lana Cox. Since her last session with you, lovely leggy Lana is still in her long brown mink coat, skimpy lingerie, stockings and high heels, but has found a few more things to play with! Firstly she finds a pair of black fox fur cuffs to tease herself with, stroking them over her firm tits and purring each time the fur brushes her firm nipples. Then she finds a long glass dildo to finish her off fully, settling down in her chair to stroke her pussy with fox and her dildo while moaning in delight. What a fur fetish idol she is – and how much she loves her furs!
Click JOIN NOW to sign up and see this video in full along with all of our other fur fetish scenes. With one hot update every week and our stunning girls only wearing real fur, you can't get more fur fetish thrills anywhere else!
We're back on Monday 20th April so see you then with more fur fetish goodness! It's still a great time though to join us and find out more about our forthcoming spring season and the hot models to come! Visit us too at our own fur fetish forum where you can discuss our scenes and what you want from our sexy women in their fabulous furs in the months ahead!