Hello lucky lads and lasses,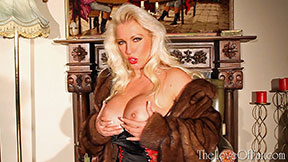 Our new update at The Love Of Fur this week stars the fur fan's favourite Lana Cox. Sexy blonde Russian goddess Lana surprises you in her chambers in a long brown mink coat and gives you the perfect way to relax and unwind. She seduces you with her sexy fur, revealing her hot black corset and knickers underneath and her sparkly stockings and black high heels too. Pulling her large firm breasts out of her basque and rubbing her mink sleeve over the pert nipples definitely works wonders for her – and no doubt for you too. So, where else will she rub her mink fur against – and just what will that feel like?!
Click JOIN NOW to sign up and see this video in full along with all of our other fur fetish scenes. With one hot update every week and our stunning girls only wearing real fur, you can't get more fur fetish thrills anywhere else!
We're back on Monday 9th March so see you all then! It's still a good time though to join us and find out more about the rest of our winter warmers to come! Visit us too at our own fur fetish forum where you can discuss our scenes and what you want from our sexy women in their fabulous furs in the months ahead!