Welcome back – to us, and to our newest model!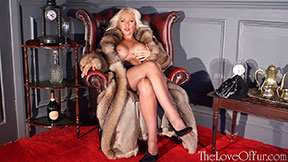 Our fur fetish scene at The Love Of Fur this week sees another long overdue return to the furry fold. Fur fetish goddess and icon, the gorgeous Russian bombshell Lana Cox debuts her first fur fetish scene for us with a simple but beguiling scene. Lady of the Manor Lana returns to her elegant apartment with her chauffeur who can't keep his eyes off of her gorgeous body, sexy evening dressing, stockings and heels – and her glorious crystal fox fur coat. Sipping champagne to relax herself, she's noticed your eager glances and doesn't mind showing you a little more of herself in fur – and out of it! Settling back into her chair in nothing but fox fur, heels and stockings, and spreading her legs for you is the ideal way to end a perfect night out!
Click JOIN NOW to sign up and see this video in full along with all of our other fur fetish scenes. With one hot update every week and our stunning girls only wearing real fur, you can't get more fur fetish thrills anywhere else!
More planning and work for our autumn season coming soon so watch this space for news of our upcoming models and much more for Lana to come too. Well: it's been far too long since we last saw her cuddled up in furs, hasn't it?
It's still a great time to join us at our own fur fetish forum too so come on by and discuss our scenes and what you want from our hot women in fur in the months ahead!