Welcome back everyone!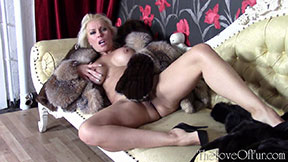 This week at The Love Of Fur our new video stars our favourite sexy Russian cougar Lana Cox showing off a selection of her favourite furs in her boudoir. Lana loves fur: wearing fur, feeling fur, shopping for fur – and making love in furs! Sit back and relax while she shows you a small selection of her favourite furs, revealing a lacy pink bra and panties set underneath the mink and fox fur coats as she changes. Enjoy it more as she takes off her lingerie and rubs her big firm tits and wet pussy with her chinchilla massage mitten, moaning and writhing on her chaise longue and the mitten brings her to a hot climax! What a way to show her love for fur!
Click JOIN NOW to sign up and see this video in full along with all of our other fur fetish scenes. With one hot update every week and our stunning girls only wearing real fur, you can't get more fur fetish thrills anywhere else!
More from us next week with another hot fur fetish scene for 2016 so wrap up warm and enjoy fur season until then! Visit us too at our own fur fetish forum where you can discuss our scenes and what you want from our sexy women in their fabulous furs in the months ahead!