Hello – what are you doing back so soon?!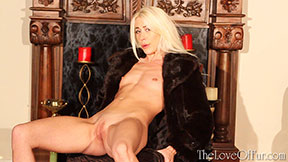 Our latest scene at The Love Of Fur this week sees the sweet sexy blonde Charlotte Elizabeth still enjoying her time alone. Slipping off the fox jacket she slides into the sleek black mink coat hanging up she caresses its smooth silky pelts over her sensitive skin, loving every moment of the feeling. But when the man of the house returns to catch her alone in his wife's furs, trouble is bound to ensue – unless Charlotte can convince him otherwise. Maybe the sight of her slim naked body underneath the mink will be enough to keep her little secret safe … for now.
Click JOIN NOW to sign up and see this video in full along with all of our other fur fetish scenes. With one hot update every week and our stunning girls only wearing real fur, you can't get more fur fetish thrills anywhere else!
See you all again on Monday 6th April so see you then with more fur fetish fun! It's still a great time though to join us and find out more about the rest of our winter warmers to come! Visit us too at our own fur fetish forum where you can discuss our scenes and what you want from our sexy women in their fabulous furs in the months ahead!