Hello again lucky boys and girls,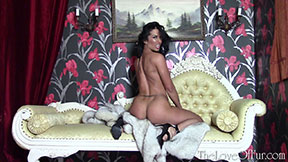 This week's new video at The Love Of Fur sees the return of the sultry Ukranian brunette sexbomb Kasia who is giving her boyfriend a very special treat for his birthday. Her hot surprise video will warm his heart this winter and seeing her in her tight sexy red top and skirt and thick white fox jacket will raise his temperature even more! Watch her smoulder for him in the soft fur coat until she strips off her red outfit to wear just the fur which she knows he (and you) all love the best! Then it's down to playtime – and after a firm rub and sexy humping and riding of the fur gets too much, a handy little dildo comes to join her to satisfy her! What a lucky girl – and a luckier guy!
Click JOIN NOW to sign up and see this video in full along with all of our other fur fetish scenes. With one hot update every week and our stunning girls only wearing real fur, you can't get more fur fetish thrills anywhere else!
Join us again next time for another great fur fetish scene from our new season so wrap up warm and enjoy fur season until then! Visit us too at our own fur fetish forum where you can discuss our scenes and what you want from our sexy women in their fabulous furs in the months ahead!