You rang, M'lady!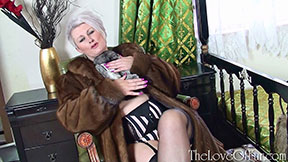 This week's fur fetish scene at The Love Of Fur sees the elegant charms of sexy madame Sally Taylor in her stately bedroom. As butler to sexy saucy Sally, you assist her with her needs, watching and enjoying her in her long sexy mink coat and attending to her every need. Returning after one such errand, you find her stripped down to just her lingerie under her fur coat, sliding a soft fur mitten around her ample breasts and over her stockinged thighs. Time to watch and serve her more then as she reaches out towards you with her mitten …
Click JOIN NOW to sign up and see this video in full along with all of our other fur fetish scenes. With one hot update every week and our stunning girls only wearing real fur, you can't get more fur fetish thrills anywhere else!
More from us again soon so watch out for news of our coming scenes. We're gearing up for our autumn shoots and hopefully the return of a couple of well-loved girls from the past. Do remember too to tell us what you think about our new look website – and more extra little features are being rolled out in the next few weeks for members. Please contact us if you have any suggestions or problems with it.
It's still a great time to join us at our own fur fetish forum too! While other fur forums may be floundering, come on by and discuss our scenes and what you want from our hot girls in fur in the months ahead!