Hello again fur lovers everywhere,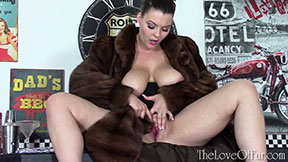 Our new video scene at The Love Of Fur this week features sexy young brunette Cherry Blush in her favourite bar one night enjoying cocktails. It's getting late but she really doesn't want to head home alone as the bar closes. Isn't there anyone who wants to escort her home in her tight black dress and long sexy mink fur coat? Yet being alone in the bar is one of her hottest fantasies too – and her sexy fur just makes her even more horny as she strips off to masturbate on the bar. Time for a special lock-in with Cherry then – see if she can make you blush!
Click JOIN NOW to sign up and see this video in full along with all of our other fur fetish scenes. With one hot update every week and our stunning girls only wearing real fur, you can't get more fur fetish thrills anywhere else!
See you all next week when summer just keeps getting hotter here! It may be getting much warmer now but it's still a great time though to join us and find out more about our love for fur. Visit us too at our own fur fetish forum where you can discuss our scenes and what you want from our sexy women in their fabulous furs in the months ahead!