Hello cats and dogs,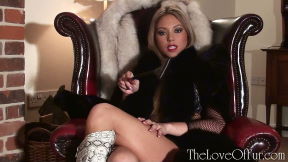 This week's fur fetish stars the gorgeous Natalia Forrest as a most teasing mistress. Looking divine in her fishnet top, bra and panties and snakeskin boots, she makes full use of her mink coat and fur playthings to tease and stroke you, her little pet. How could anyone resist her beautiful charms, especially as she starts stroking you with her play mitten.
Click JOIN NOW to sign up and see this video in full along with all of our other fur fetish scenes.
More fur delights on Monday 26th March and look out for another blog post about the upcoming shoots where you can help submit more ideas and suggestions for the sort of scenes you want to see in the weeks ahead.