Hello Lads and Ladies of Leisure,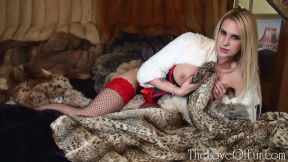 This week sees the first fur fetish update from our latest shoots and a very welcome return for Jessica Lloyd. And my, hasn't she grown in all the right ways since she was last with us?! The gorgeous busty blonde couldn't wait to get back among the furs for us and you all so we gave her a simple welcome back: a bed of furs to enjoy and abuse to her heart's content. Her sexy red and black corset and wicked fishnet stockings stay on – unlike her thong – as she rubs and rides the furs around her lustfully! Welcome back Jessica: she's missed a good furring and we missed seeing her do so!
Click JOIN NOW to sign up and see this video in full along with all of our other fur fetish scenes.
More from Jessica's return over the coming weeks. Another scene from our new shoots will be out on Monday 7th May.