Hello friendly neighbours,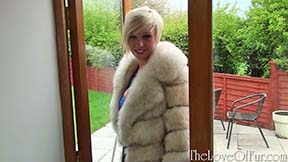 Our fur fetish scenario this week stars charming young blonde Scarlet Lovatt. Neighbour Scarlet has locked herself out and comes knocking in her blue party dress and blue fox jacket just as you were about to settle down with a few of your foxes. It would be a shame not to invite her in in that jacket – and soon she is trying one your fox jackets and stripping out of her dress. Seems like you will get a playmate after all – and a maybe chance to play with her blue fox as well.
Click JOIN NOW to sign up and see this video in full along with all of our other fur fetish scenes.
We're back with more fur fetish fun on Monday 30th July when Vickie Powell gives you a dirty office striptease in her furs.