Hello boys and girls. Are you sitting comfortably? Then I'll begin …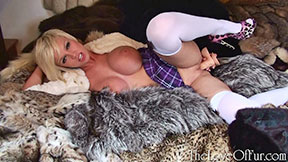 Our fur fetish scene this week stars sweet Scarlet Lovatt as a young Goldilocks in crisp blouse, short skirt and opaque stockings. Entering a strange house she soon finds and tests three sofas and three coffees for preference but heading upstairs she finds three fur coats on the landing. Which of them will prove too hard, too soft or just right? And what about the three dildos she finds further up the stairs? No matter: the bed of furs awaiting at the end looks just right for her and where better to enjoy her selected toy too!
Click JOIN NOW to sign up and see this video in full along with all of our other fur fetish scenes.
More fur fetish fun on Monday 27th August when redhead milf Holly Kiss shows us her darker side again as she commands you to masturbate for her pleasure.