Hello founding fathers and colonial commoners,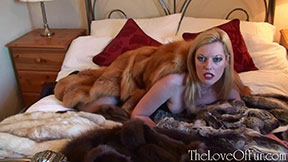 Our fur fetish video this week sees you in trouble again. Madame Holly Kiss has found you abusing yourself with her finest furs again without an excuse. In her black PVC corset, stockings and heels under a thick red fox coat, she tells you exactly what she thinks of you and how her foxes, minks and chinchillas are for her use only. How did you think you could get away with using them without her permission – so now you have to watch her using them and not cum until she tells you too! What would you do with those soft sleeves and mittens against her body or yours – and will you get the chance again?!
Click JOIN NOW to sign up and see this video in full along with all of our other fur fetish scenes.
Another new scene to come on Monday 26th November after the Thanksgiving weekend with more sensual fur teasing from Natalia Forrest. Have a happy holiday to all you US members and fans!