Hello voyeurs and vassals,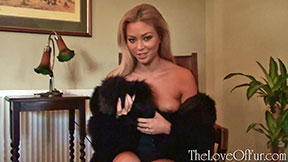 This week's fur fetish video scene stars sultry Natalia Forrest in a seductive role yet very much in charge. Crawling before her following her blue fox stole, she comands you to watch her in her black fox jacket, tight PVC basque and tiny shorts and winning smile. As you look longily at her she teases and seduces you with her fox furs before tying you up to watch her reveal her pert breasts and remove her tight shorts to finger and rub herself with the soft fox! Can you stop drooling and leaking as you watch your mistress cumming, while unable to touch her or her furs?
Click JOIN NOW to sign up and see this video in full along with all of our other fur fetish scenes.
More furry treats from us on Monday 3rd December when busty blonde in satin Jessica Lloyd begs you to join her in bed. Well, does she really need to?