Hello borrowers and lenders,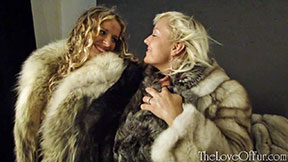 Today's fur fetish scene features our fun new Czech blonde Niki joined by her slim blonde friend Jana in the fur studio. Clad only in skimpy bra and panties but with many lush thick fox fur coats around, the girls take turns dressing each other in the furs, often two at once! Cue some sensual stroking and fondling of each soft fur and cuddling up together too, before snuggling into a pile of the furs together towards the end. Who could resist such gorgeous playful girls and such fabulous furs to play with?!
Click JOIN NOW to sign up and see this video in full along with all of our other fur fetish scenes.
The second part of the latest Holly Kiss therapy scene will be here on Monday 25th March so join us to see what else she gets up too then. Summer may be on the way but our furs aren't going away anywhere!