Hello all you dedicated followers of fur fashion,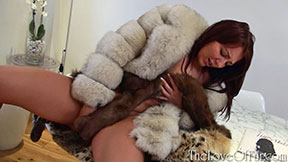 Welcome to the start of the new season here at The Love of Fur!
Our new fur fetish season starts today with sexy young brunette newcomer Crystal Coxxx as an up and coming – and cumming – fashion designer looking to work vintage furs into her new collection. While she gives her thoughts on what she wants to do with the furs on the table in front of her, you can't help but admire her shapely body and long legs under her tight skirt and denim top. Spotting your admiring looks, especially in the chinchilla and fox jackets, she starts to enjoy teasing you – before spreading out on the fur-covered table to give you a design for what she really wants from the furs!
Click JOIN NOW to sign up and see this video in full along with all of our other fur fetish scenes.
Join us again on Monday 6th May when another of our new models joins us for her furry debut! Over the coming weeks you'll see lots of Crystal and her friends Alyssa Divine, Chloe Lovette and Tiffany Naylor getting downright dirty in some fabulous settings while in great furs too! The summer of 2013 starts early at The Love Of Fur!