Welcome first time buyers and regular visitors,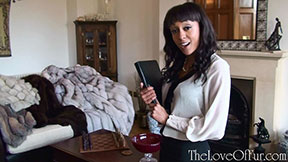 Today's new fur fetish video stars another of our new models: the fabulously hot Alyssa Divine. Estate agent Alyssa takes you on a tour of a beautiful elegant home newly on the market. How careless though of the owners to leave some great fox furs lying around in the lounge! While you continue your viewing, sexy young Alyssa slips out of her smart blouse and skirt and snuggles into the fur coats in her lacy bra and panties. But when you catch her in them, she soon sheds her lingerie to finger and rub herself to a wild climax buried in the fox! Perhaps this house is worth the asking price after all – if Alyssa comes with it!
Click JOIN NOW to sign up and see this video in full along with all of our other fur fetish scenes.
We'll be back on Monday 13th May when new model Tiffany Naylor loses her furginity at our hands and for her and your pleasure! And keep an eye out for more blog announcements this week as we spread our furry fantasties wider than ever!