Hello naughty boys and naughtier girls,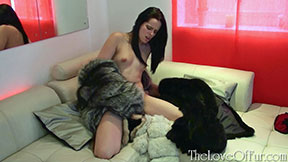 Our fur fetish scene this week sees fiesty new girl Tiffany Naylor in an angry mood! It seems that her partner has been buying furs for a mystery woman and Tiffany is pissed. How dare he?! She slips out of her tight lacy dress and lingerie to make sure that she gets to wear the furs before her love rival does, then leaves her own mark on the furry gifts! Revenge is a dish best served cold – and, in this case, liberally all over fox fur jackets!
Click JOIN NOW to sign up and see this video in full along with all of our other fur fetish scenes.
More new model goodness on Monday 20th May when we join the gorgeous Chloe Lovette in her bedroom – and discover what secret dreams keep her awake at night! Don't miss that!