Hello dirty dreamers,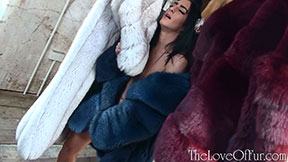 This week's fur fetish scene stars sexy new brunette Chloe Lovette having a very dirty dream. There, she finds herself naked in an old attic full of thick fox fur coats! Walking around and among them, she can't help stroking and caressing them all, cudding the soft coats around her and rubbing the sleeves all over her body. She slips into a bright blue fox jacket for a quiet play among the coats, pulling the sleeves around her as her passion grows. But look out Chloe: maybe the furs want a bit the action themselves too …
Click JOIN NOW to sign up and see this video in full along with all of our other fur fetish scenes.
We'll be back on Monday 27th May with another fabulous fur scene so join us again for that. Plus we have more big announcements to come this week so stay tuned: your furry summer is about to get even hotter!