Hello uprights and recliners,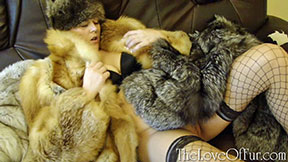 Our fur fetish video for this week stars our curvy young European blonde Niki back among the furs on her sofa. In her black bra, fishnet stockings, hooker high heels, raccoon hat and in several fox fur coats, she has found a new toy to play with today! Wasting no time while relaxing on her leather sofa, she reaches for her new red love beads as she strokes the fox sleeves around her and snuggles into the thick collars of her coats. Writhing around among the fox furs, she finds that this new toy is clearly going to become a firm but flexible favourite!
Click JOIN NOW to sign up and see this video in full along with all of our other fur fetish scenes.
See you all again on Monday 3rd June when two of our newest girls share screen time together in a hot twosome scenario, so don't miss that! And more news to follow tomorrow so come back and see what else we have in store at The Love Of Fur.