Hello smokes and mirrors,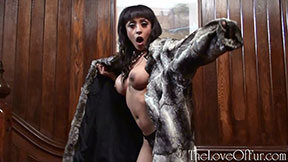 Our fur fetish scenario this week stars Alyssa Divine as a woman with a special psychic gift. She can reveal details of the former owner just by touching the fur, communing with the aura of each coat and stole. As you bring her a few vintage furs to examine, she tells you about each fur's history. However when she gets her hands on the chinchilla jacket, the lustful spirit of the fur overwhelms her, forcing her to strip off and finger herself furiously while cuddling the soft fur around her. The medium is possessed by lust – and so are we after seeing her in chinchilla!
Click JOIN NOW to sign up and see this video in full along with all of our other fur fetish scenes.
We're back on Monday 17th June with more from a very bossy Crystal Coxxx so join us for that, especially those submissives among you. COme and join us as well on our new forum to discuss our scenes and what you like best about furs: