Hello crawlers and kneelers,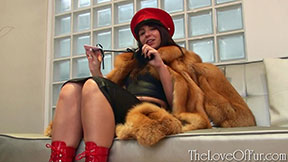 This week's fur fetish video sees our lovely young star Crystal Coxxx showing her dominant streak – and keeping you firmly in your place. You creep into her chamber and kneel before her as commanded, while she chides and instructs you wearing a tight black rubber top and skirt, kink red patent leather boots, a sharp military cap and long red fox coat over her shoulders. After telling you off, she reaches for some fur items to tease you with – and whip you with – before commanding you to masturbate in front of her! Hopefully her black fox boa won't get in the way though …
Click JOIN NOW to sign up and see this video in full along with all of our other fur fetish scenes. With one hot update every week week and our stunning girls only wearing real fur, you can't get more fur fetish thrills anywhere else!
Join us again on Monday 24th June when sexy Chloe Lovette welcomes you into her secret bedroom and seduces you in her hot thick fox fur jackets. This secret place is just for the girls though …
Come and join us too at our new fur fetish forum to discuss our scenes and what you want from fur loving!