Evening, all!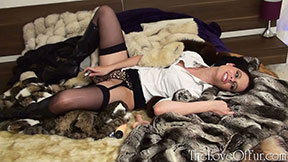 Our fur fetish scene this week sees glamourous maverick detective Tiffany Naylor investigating a very special case of stolen sex toys. She enters the suspects house and finds the stolen goods hidden under a pile of furs. Waiting for the suspect to return home though seems to give DI Naylor some wicked ideas and she strips from her mink coat down to her stockings, suspenders and boots to see just how enjoyable those toys are among the furry bed beneath her! She may be on duty, but she loves this part of her job. Will she be finished in time to make her arrest – and what is to come in part 2 of this story?
Click JOIN NOW to sign up and see this video in full along with all of our other fur fetish scenes. With one hot update every week week and our stunning girls only wearing real fur, you can't get more fur fetish thrills anywhere else!
Join us again on Monday 12th August for the first part of our anniversary special starring Alyssa Divine and Chloe Lovette as callgirl and madam with some very special fox furs so don't miss that! Don't forget too to join us at our new fur fetish forum to discuss our scenes and what you want from fur loving and our sexy girls!