Welcome regular clients and occasional punters,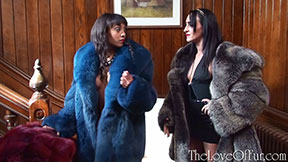 This week sees the first part of our 4th anniversary fur fetish scene. Gorgeous call girl Alyssa Divine returns to the stately manor home of glamourous Madame Chloe Lovette. Madame isn't pleased with her girl's earnings however, and suggests she should improve her fashion style – courtesy of some hot fox furs! Under Madame's watchful eye, Alyssa works her new look well – so well that Madame has her strip off and wear her thick blue fox over her naked body. Alyssa is then told to bend over and prepare herself for Madame's menacing black dildo …
Click JOIN NOW to sign up and see this video in full along with all of our other fur fetish scenes. With one hot update every week week and our stunning girls only wearing real fur, you can't get more fur fetish thrills anywhere else!
Join us again on Monday 19th August for the conclusion of our anniversary special so don't miss that! Don't forget too to join us at our new fur fetish forum to discuss our scenes and what you want from fur loving and our sexy girls!