You rang, M'ladies?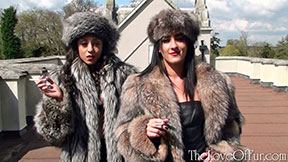 This week's fur fetish scene features two women in command for you to obey! Fox clad msitresses Alyssa Divine and Chloe Lovette have called you to the roof of their mansion for your worship today. You admire their kinky boots, leather outfits and fox jackets as they show you their fine grounds while smoking above you. Then they lead you into their fur vault to tease you and watch as you get aroused beneath them. Seeing them walk between those thick soft fox furs, cuddling and stroking each expensive coat and even rubbing you with their play fur stole might just become too much to bear …
Click JOIN NOW to sign up and see this video in full along with all of our other fur fetish scenes. With one hot update every week week and our stunning girls only wearing real fur, you can't get more fur fetish thrills anywhere else!
Join us again on Monday 21st October for a first look at one of our new models for the winter. More details about the new girls later in the week so keep an eye on the blog for that!
Don't forget to keep voting on our What's Next poll. Join us too at our new fur fetish forum to discuss our scenes and what you want from our hot girls in fur! We've loads more coming there this autumn/fall and winter so stay tuned!