Walkies!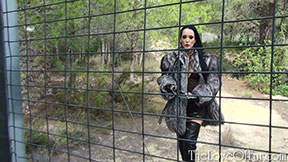 This week's fur fetish update sees us venture outside for a stroll with Mistress Fetish Liza … after she's let you out of your cage and attaches your collar and leash, that is. You follow her obediently as she leads you along the rocky paths, admiring her sleek black leather thigh boots and gloves, her sheer black negligee and soft thick silver fox jacket. The walk takes you to a charming wooden hut where she shows you her sexy outfit as you sit, watch and drool. Will you be a good boy for your mistress and receive her strokes and pats – or will you misbehave and find yourself left for good out in the cold?
Click JOIN NOW to sign up and see this video in full along with all of our other fur fetish scenes. With one hot update every week week and our stunning girls only wearing real fur, you can't get more fur fetish thrills anywhere else!
See you again on Monday 16th December for a trip to the hospital by sexy Sapphire Blue where she raises the temperature for one very lucky doctor!
Please keep voting too on our What's Next poll. Join us too at our new fur fetish forum to discuss our scenes and what you want from our hot girls in fur in the months ahead.