Merry Christmas everyone – from us all here at The Love of Fur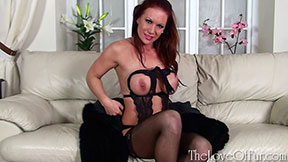 This Christmas, our fur fetish video stars the divine Ashleigh Embers as your lover happily awaiting her gift on Christmas morning. Wearing only a short silk robe, she adores your gift – a new black fox fur jacket – and rushes away to give you your present! What could be a better gift than Ashleigh herself, in sexy black lacy lingerie, stockings and designer heels plus her new fur jacket! Time for Ashleigh to enjoy her new fur first though, teasing it over her body and stockings and rubbing it hard against her pussy – before dragging you in for a furring of your own!
Click JOIN NOW to sign up and see this video in full along with all of our other fur fetish scenes. With one hot update every week week and our stunning girls only wearing real fur, you can't get more fur fetish thrills anywhere else!
We're back on Monday 30th December for our New Year update, in which the young mink-clad madames Kacie James and Natalia Forrest remind you of your duties for the new year.
Please keep voting too on our What's Next poll. Join us too at our new fur fetish forum to discuss our scenes and what you want from our hot girls in fur in the months ahead.