Happy New Year everyone from us all here at The Love of Fur!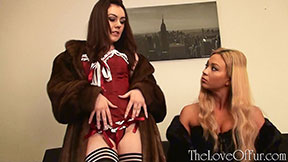 Our fur fetish update this week sees our sexy young mink-clad madames Kacie James and Natalia Forrest welcome in the new year with a reminder of your duties. With two hot girls to admire, it'll be an expensive time keeping them both in the sexiest furs and finest lingerie, stockings and high heels. But there is much to relish too for those who keep to their duties, diligently and lovingly, focusinging their worship on the fullest details of their outfits and bodies and following every stroking hand, smooth thigh and playful foot. Welcome to another year of fur worship with our girls!
Click JOIN NOW to sign up and see this video in full along with all of our other fur fetish scenes. With one hot update every week week and our stunning girls only wearing real fur, you can't get more fur fetish thrills anywhere else!
We're back on Monday 6th January 2014 when Fetish Liza uses her rather special interrogation techinques to get her captured spy to reveal all – before she does too!
Please keep voting too on our What's Next poll. Join us too at our new fur fetish forum to discuss our scenes and what you want from our hot girls in fur in the months ahead.