Hello sneakers and snoopers,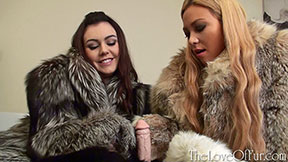 This week's fur fetish video at The Love Of Fur stars the delightful duo Kacie James and Natalia Forrest relaxing in the aftermath of another furry frolic – until you catch them at it! At first shocked, they soon welcome you on to the bed of furs and encourage you to strip off too. Then it's your turn to play – and their turn to play with you! Rubbing fox and lynx fur sleeves and their own pert tits over your stiff cock as you lie in the furs beneath them and giggling and teasing you while they do. Best enjoy it while you can: don't want their flatmate to come back and catch you!
Click JOIN NOW to sign up and see this video in full along with all of our other fur fetish scenes. With one hot update every week and our stunning girls only wearing real fur, you can't get more fur fetish thrills anywhere else!
We're back on Monday 10th March joining your boss AshleighEmbers in her office for a special and very demanding work review.
Remember to tell us what you think about our new look website – and do contact us if you have any suggestions or problems with it. Join us too at our new fur fetish forum to discuss our scenes and what you want from our hot girls in fur in the months ahead.