Good morning office juniors,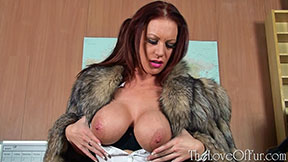 Our fur fetish scene this week at The Love Of Fur features a bossy and angry Ashleigh Embers waiting with you in her office. She's called you in for a chat about your behaviour towards the girls in the office. Sitting watching her in her tight blouse and skirt, sheer stockings and designer high heels is distracting enough, but when she slips her crystal fox fur jacket on her shoulders things take a turn for the better – for both you and her. Pulling her big tits out and stroking them with her fur sleeves, she teases you to full hardness – then makes you wank for her pleasure, counting you down until you cum on her breasts and fur!
Click JOIN NOW to sign up and see this video in full along with all of our other fur fetish scenes. With one hot update every week and our stunning girls only wearing real fur, you can't get more fur fetish thrills anywhere else!
More from us on Monday 17th March joining the lovely Natalia Forrest in her kitchen as she returns from a trip out in a lynx fur jacket.
Remember to tell us what you think about our new look website – and do contact us if you have any suggestions or problems with it. Join us too at our new fur fetish forum to discuss our scenes and what you want from our hot girls in fur in the months ahead.