Welcome one and all,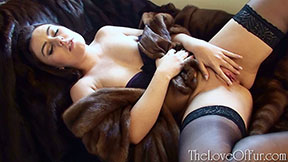 Our fur fetish video at The Love Of Fur this week finds the sexy tease Kacie James all alone by her mirror with her thoughts – and her mink furs. Wearing sexy lace-trimmed bra and panties, stockings, black high heels and a mink stole, she seduces you with her sweet smile as she slides down onto her mink-covered sofa while slowly stripping off. Rubbing the mink stole over her naked breasts and pussy slowly, she begins to finger herself while getting more caught up in the sensual pleasure of the fur around her. What a lucky girl and what a way to enjoy a lazy morning!
Click JOIN NOW to sign up and see this video in full along with all of our other fur fetish scenes. With one hot update every week and our stunning girls only wearing real fur, you can't get more fur fetish thrills anywhere else!
We'll be back on Monday 31st March with another hot fur fetish scene and are starting to plan for our summer season too: more news on that in the weeks ahead.
Remember to tell us what you think about our new look website – and more extra little features are being rolled out in the next few days for members. Do also contact us if you have any suggestions or problems with it. Join us too at our new fur fetish forum to discuss our scenes and what you want from our hot girls in fur in the months ahead.