Welcome masters, mistresses and masochists,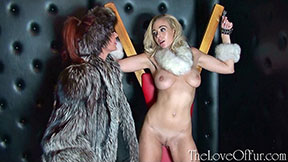 This week's fur fetish video at The Love Of Fur opens with poor slave Sapphire Blue bound to a cross and naked except for a little bit of fox fur. Mistress Ashleigh Embers in a big silver fox fur jacket and hat is ready though and teases and torments her slave girl with her fur and paddle as subbie Sapphire wriggles helplessly. A chinchilla and sable mitten is not all she gets between her legs though – as Mistress soon has her slave girl bent over a bench for a furious fucking from her dildo. Hear Sapphire moan and howl at her mistress's deeds – but will she prove worthy of another session?
Click JOIN NOW to sign up and see this video in full along with all of our other fur fetish scenes. With one hot update every week and our stunning girls only wearing real fur, you can't get more fur fetish thrills anywhere else!
See you again on Monday 7th April with more hot fur fetish action from the fabulous Fetish Liza who looks ahead to summer by her villa pool, with a fur or two for company.
We are now planning for our summer season too: more news on that in the weeks ahead but some new girls will be coming (and cumming) and we expect the big foxes will be back! Oh yes, it'll be a hot summer here!
Remember to tell us what you think about our new look website – and more extra little features are being rolled out in the next few days for members. Do also contact us if you have any suggestions or problems with it. Join us too at our new fur fetish forum to discuss our scenes and what you want from our hot girls in fur in the months ahead.