Happy Easter, chicks and bunnies!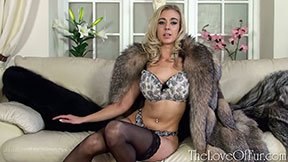 Our fur fetish scene this week at The Love Of Fur stars the charming Sapphire Blue in another special therapy session. In her smart white blouse and short black skirt, showing the tops of her stockings, the busty blonde bombshell asks you questions about your love of fur before collecting a few fox furs of her own to draw out your deepest fantasies and responses. Stripping down to her lacy bra and panties under a crystal fox jacket helps too – as she starts to explore her own feelings for fur. Maybe the therapist has some questions of her own to answer too!
Click JOIN NOW to sign up and see this video in full along with all of our other fur fetish scenes. With one hot update every week and our stunning girls only wearing real fur, you can't get more fur fetish thrills anywhere else!
Part 2 of Sapphire's scene to come on Monday 28th April when she reveals more of her desires – and much more of her fabulous body – so don't miss that! Planning for the summer season continues so news on that in the weeks ahead but some new girls will be coming (and cumming) and we expect the big foxes will be back.
Remember to tell us what you think about our new look website – and more extra little features are being rolled out in the next few days for members. Do also contact us if you have any suggestions or problems with it. Join us too at our new fur fetish forum to discuss our scenes and what you want from our hot girls in fur in the months ahead.