Hello party animals!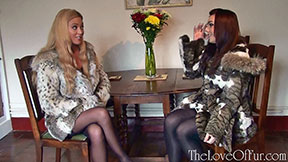 This week's fur fetish video update at The Love Of Fur sees our hot young duo Kacie James and Natalia Forrest gearing up for a night out. Dressed in hooded fur jackets, sexy tight dresses, stockings and high heels, Kacie and Natalia chat about their outfits and their furs before their night out. A gentler scene than some but be a fly on the wall as the girls stroke and try on each fur, caressing the lynx and wildcat skins, pulling up the hoods and enjoying their moment of luxury. Best not be late though girls: their night has not yet begun!
Click JOIN NOW to sign up and see this video in full along with all of our other fur fetish scenes. With one hot update every week and our stunning girls only wearing real fur, you can't get more fur fetish thrills anywhere else!
Next week's update may be a day or two late on Tuesday 20th or Wednesday 21st May as we're away filming some great new scenes for the summer with four gorgeous new models, so more news on them all next week when we return! Remember to tell us what you think about our new look website – and more extra little features are being rolled out in the next few days for members. Do also contact us if you have any suggestions or problems with it.
And now is also a great time to join us at our own fur fetish forum too! Come along and discuss our scenes and what you want from our hot girls in fur in the months ahead!