Hello newbies and old hands!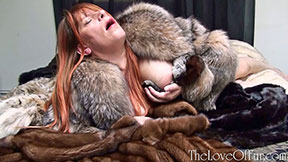 This week's fur fetish video at The Love Of Fur we welcome a new amateur model into the fold: BBW milf and first time fun loving amateur Slave Scarlett. She's a bit shy for her debut fur scene but soon gets into the hang of it all as she feels the different furs on the bed beneath her. Removing her lacy bra she rubs the furs against her large tits, and starts to sigh and moan as the fox, mink and chinchilla skins start to work their magic on her body! A lucky lady indeed to enjoy such sensual pleasure and feel the love of fur for the first time.
Click JOIN NOW to sign up and see this video in full along with all of our other fur fetish scenes. With one hot update every week and our stunning girls only wearing real fur, you can't get more fur fetish thrills anywhere else!
More from us on Monday 23rd June with another new fur fetish scene from our summer range so don't miss that. Do remember too to tell us what you think about our new look website – and more extra little features are being rolled out in the next few weeks for members. Please contact us if you have any suggestions or problems with it.
It's still a great time to join us at our own fur fetish forum too! While other fur forums may be floundering, come on by and discuss our scenes and what you want from our hot girls in fur in the months ahead!