August is here – but it's never too hot for fur, is it?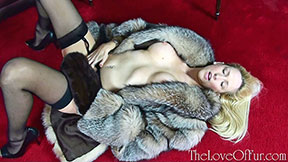 Our fur fetish scene at The Love Of Fur this week find the gorgeous blonde starlet Samantha Alexandra alone in a classy lounge and looking stunning in a hot fox fur jacket, sexy yellow bra and panties, sleek black sheer stockings and black high heels. But her fur coat is really making her purr, running her fingers through the soft hairs and cuddling into the thick skins. Slipping out of her lingerie, she soon slides onto the carpet in her jacket, fingering herself and stroking her fur everywhere she can. Now wonder that she felt so horny when feeling the seductive fox fur against her skin!
Click JOIN NOW to sign up and see this video in full along with all of our other fur fetish scenes. With one hot update every week and our stunning girls only wearing real fur, you can't get more fur fetish thrills anywhere else!
We'll see you again next time with more furry delights from lady Sally Taylor. We're gearing up for our autumn shoots and hopefully the return of a couple of well-loved girls from the past. Do remember too to tell us what you think about our new look website – and more extra little features are being rolled out in the next few weeks for members. Please contact us if you have any suggestions or problems with it.
It's still a great time to join us at our own fur fetish forum too! While other fur forums may be floundering, come on by and discuss our scenes and what you want from our hot girls in fur in the months ahead!