Hello – and welcome to our little secret!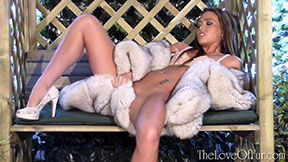 This week's update at The Love Of Fur sees the long awaited return of the sweet and sexy Natalia Forrest to our fold. Natalia is waiting in a most secret garden for a handsome guy to meet her on a cold spring day. Her sexy thick blue fox jacket seems to be keeping her warm though – especially as she's not wearing much underneath it! When her date arrives she reveals her sexy bra and panties behind the fur, then slips out of them to enjoy her jacket fully on the bench seat and rub and finger herself to orgasm with her thick fox! What a special secret spot Natalia seems to have found indeed!
Click JOIN NOW to sign up and see this video in full along with all of our other fur fetish scenes. With one hot update every week and our stunning girls only wearing real fur, you can't get more fur fetish thrills anywhere else!
We're back on Monday 1st June with another new update from our spring season so don't miss that. It may be getting warmer now but it's still a great time though to join us and find out more about our love for fur. Visit us too at our own fur fetish forum where you can discuss our scenes and what you want from our sexy women in their fabulous furs in the months ahead!