Hello helpers and hinderers,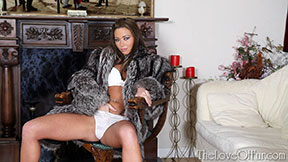 This week at The Love Of Fur, our new update stars the divinely beautiful Natalia Forrest having a problem at home. It's very cold there and here heating has broken so she calls for a handyman to come and repair it. He arrives to find her wrapped in her fox fur jacket for warmth, however with very little underneath it. His repair work though comes at a special price: seeing gorgeous Natalia strip from her fox and keep warm in other ways. Her sexy show certainly warms him up on the cold day as she enjoys her slim sexy body with her fingers and the fur before him!
Click JOIN NOW to sign up and see this video in full along with all of our other fur fetish scenes. With one hot update every week and our stunning girls only wearing real fur, you can't get more fur fetish thrills anywhere else!
See you all next week when summer just keeps getting hotter here! It may be getting much warmer now but it's still a great time though to join us and find out more about our love for fur. Visit us too at our own fur fetish forum where you can discuss our scenes and what you want from our sexy women in their fabulous furs in the months ahead!