Keep calm and carry on furring!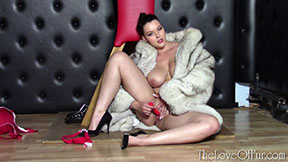 This week's new video at The Love Of Fur sees the return of our naughty minx Cherry Blush for the second part of her dungeon scene. The playful minx isn't finished in her dungeon yet however – with you, with her fox jacket or with her bright dildo – and she continues sliding her toy into her bright red panties before sliding them off to play more intensely. She starts sliding the slender dildo into her wet pussy while standing, before relaxing on the floor in her thick soft fox fur jacket for the hard toy fucking she is craving! Dungeons don't have to be dark and demeaning – sometimes they can prove delightful!
Click JOIN NOW to sign up and see this video in full along with all of our other fur fetish scenes. With one hot update every week and our stunning girls only wearing real fur, you can't get more fur fetish thrills anywhere else!
See you all next week as autumn arrives in the northern hemisphere, but that just means we are getting all the nearer to fur season proper again! Planning is underway for our winter season here so more news on our models for that to come! Join us and find out more about our love for fur and the winter treats to come! Visit us too at our own fur fetish forum where you can discuss our scenes and what you want from our sexy women in their fabulous furs in the months ahead!