Hello again fallers and winterers,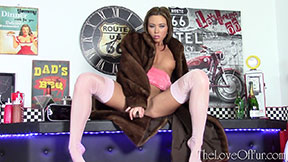 Our new update at The Love Of Fur this week is the second part of our latest scene with the divine Natalia Forrest. Having found a mink coat and settled down to start enjoying it, breathtakingly sexy Natalia continues her trip towards ecstacy! With her dress still partially on along with her stockings, Natalia continues thrusting her big glass sexy toy deep into her pussy on top of the bar. Hopefully her moans and howls of pleasure won't attract the bar staff back so that she can really enjoy the mink and toy combination fully! Will she have that much privacy though – or will she get lucky once more if someone catches her?
Click JOIN NOW to sign up and see this video in full along with all of our other fur fetish scenes. With one hot update every week and our stunning girls only wearing real fur, you can't get more fur fetish thrills anywhere else!
See you all next week as autumn arrives in the northern hemisphere, but that just means we are getting all the nearer to fur season proper again! Planning is underway for our winter season here so more news on our models for that to come! Join us and find out more about our love for fur and the winter treats to come! Visit us too at our own fur fetish forum where you can discuss our scenes and what you want from our sexy women in their fabulous furs in the months ahead!