Welcome, Masters and Commanders,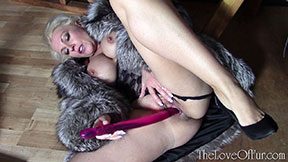 Our latest scene at The Love Of Fur this week finds our gorgeous Russian milf Lana Cox alone with you in her play dungeon – however this time you are the one in charge! No stern looks or harsh words from gorgeous Lana as she is at your command and there for your pleasure, in her soft thick silver fox jacket and slinky lingerie. Fulfilling your wishes and desires, lovely Lana reveals her firm round breasts and willing pussy underneath her lingerie, then relaxes on to the dungeon floor with a huge purple dildo. If there's any else that you want her to do for you, just ask: after all, she is at your command!
Click JOIN NOW to sign up and see this video in full along with all of our other fur fetish scenes. With one hot update every week and our stunning girls only wearing real fur, you can't get more fur fetish thrills anywhere else!
Join us again next time for another great fur fetish scene from our new season so wrap up warm and enjoy fur season until then! Visit us too at our own fur fetish forum where you can discuss our scenes and what you want from our sexy women in their fabulous furs in the months ahead!