Hello hello, clickers and snappers,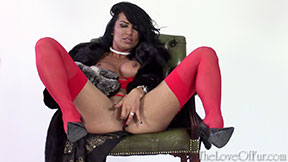 This week's new video at The Love Of Fur finds our sexy and hot Ukranian brunette starlet Kasia in the modelling studio on another fabulous fur photoshoot. Underneath the sexy furs she wears just a sheer red basque with matching knickers and red stockings with black patent high heels, posing in different fur coats over her lingerie. Once the photographer is out of the studio though, she jumps at the opportunity to really enjoy the soft furs around her! The teasing sable and chinchilla massage mitten soon works its magic on her and she is caught up in her lust for fur! Hopefully the cameraman will be gone for a good while, for her sake!
Click JOIN NOW to sign up and see this video in full along with all of our other fur fetish scenes. With one hot update every week and our stunning girls only wearing real fur, you can't get more fur fetish thrills anywhere else!
Join us again next time for another great fur fetish scene from our new season so wrap up warm and enjoy fur season until then! Visit us too at our own fur fetish forum where you can discuss our scenes and what you want from our sexy women in their fabulous furs in the months ahead!