Best warm up for this one, guys!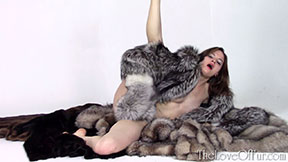 Our latest scene at The Love Of Fur this week is a simple yet stunning spectacle. Leave gorgeous lithe new model April O alone on a spread of fox furs and with a few accessories to play with and see what happens! What does happen is a fabulous display of April's love for fur and also her flexiblity, as she bends and stretches to feel as much of the fur against her body as possible. The positions she gets in when rubbing her pussy with soft fox mittens are amazing and clearly she is enjoying it all too from her moans and gasps! Sit and back and relax, while April does all the work!
Click JOIN NOW to sign up and see this video in full along with all of our other fur fetish scenes. With one hot update every week and our stunning girls only wearing real fur, you can't get more fur fetish thrills anywhere else!
More from us next week with another hot fur fetish scene for 2016 so wrap up warm and enjoy fur season until then! Visit us too at our own fur fetish forum where you can discuss our scenes and what you want from our sexy women in their fabulous furs in the months ahead!