Cleaning time again?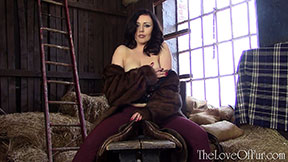 This week's new scene at The Love Of Fur sees more of the stunningly cute Kacie James. Your first day as Miss Kacie's new stable boy starts with a bang as your gorgeous madame introduces herself to you while you are cleaning her barn. Underneath her sexy long mink coat she has on smart trousers, black high heeled shoes and a lacey bra but over her coat you can see her sexy eyes and welcoming smile. She has taken a shine to you already and your welcome gets warmer as she straddles her riding saddle and reveals her pert breasts to you, rubbing them with her fur sleeves while you watch. Her eager fingers soon find her way to her pussy giving you full sight of her lust for you. Maybe she'll let you roll with her in the hay one day …
Click JOIN NOW to sign up and see this video in full along with all of our other fur fetish scenes. With one hot update every week and our stunning girls only wearing real fur, you can't get more fur fetish thrills anywhere else!
More from us next week with another hot fur fetish scene so wrap up warm and enjoy fur season until then! Look out for our next update on Sunday 29th May. Note that this is a little later than normal due to filming commitments this week – but the wait will be worth it!
Visit us too at our own fur fetish forum where you can discuss our scenes and what you want from our sexy women in their fabulous furs in the months ahead! Planning is underway for the new season, with new girls, new furs, new locations and other new touches too. It'll be scorching!