Time for a twosome?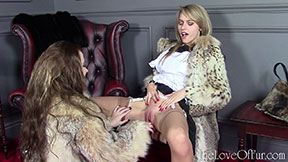 Our latest new video at The Love Of Fur sees two gorgeous new models join our fold in one of our hottest ever lesbian scenes! Sweet but dirty blonde stunner Chloe Toy and classy yet equally naughty Brook Logan star joins us this summer for some great solo and two girl scenes, starting with this treat. Pretty maid Chloe is trying to select the right fur for Mistress Brook to wear but which of them will match Mistress's outfit? But when Mistress finds Chloe wearing one of her furs she isn't happy and Chloe's excuses only get her in more trouble. Luckily for Chloe – and us – Mistress Brook is most forgiving and shows Chloe the real pleasure of fur, and the real pleasure of lesbian love too. Soon dresses are hitched up, panties are pulled down and Mistress is showing CHloe what proper service is all about! Watch the fur, fingers and toungues fly as these two naughty minxes enjoy their furs and each other as only two girls can!
Click JOIN NOW to sign up and see this video in full along with all of our other fur fetish scenes. With one hot update every week and our stunning girls only wearing real fur, you can't get more fur fetish thrills anywhere else!
More from us next week with another hot fur fetish scene so wrap up warm and enjoy fur season until then! Look out for our next update on Friday 3rd June.
Visit us too at our own fur fetish forum where you can discuss our scenes and what you want from our sexy women in their fabulous furs in the months ahead! Planning is underway for the new season, with new girls, new furs, new locations and other new touches too. It'll be scorching!