Ah: the great outdoors!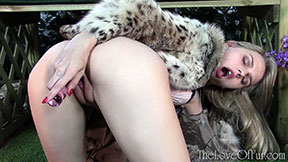 Our latest scene at The Love Of Fur sees the first solo outing of our newest blonde starlet Chloe Toy enjoying some time alone on a lovely summer's day waiting for her boyfriend. What is taking him so long, when she is all alone, wrapped up in a cute lynx fur jacket, sweet pink satin heels and just a sexy bra and pantie set underneath. She has temptation on her mind too and all ready to play with him when he arrives but can't wait for him so starts alone, rubbing the lynx fur between her legs and fingering herself silly before using her thick dildo to climax loudly in the lovely garden. What a vision in lynx – who could leave her waiting?
Click JOIN NOW to sign up and see this video in full along with all of our other fur fetish scenes. With one hot update every week and our stunning girls only wearing real fur, you can't get more fur fetish thrills anywhere else!
More from us next week with another hot fur fetish scene so wrap up warm and enjoy fur season until then! Look out for our next update on Friday 17th June.
Visit us too at our own fur fetish forum where you can discuss our scenes and what you want from our sexy women in their fabulous furs in the months ahead! Planning is underway for the new season, with new girls, new furs, new locations and other new touches too. It'll be scorching!