So: leave something behind?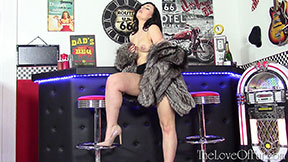 Our newest video update at The Love Of Fur stars our cute brunette model Kacie James hard at work cleaning up after a shift at her bar. Looks like one careless partygoer has left her silver fox fur jacket behind though – and what a gorgeous fur it is too. More so when the divine Kacie tries it on and relishes its sensuality and sexiness – so much so that she can't wait to try it on and feel the fur close to her sweet body. Cleaning takes a back seat to her own dirty minded needs and lust for the fox jacket, as she rubs it all over her heaving breasts and between her trembling thighs. Cumming onto the fur is all that's on her mind at the end of her shift.
Click JOIN NOW to sign up and see this video in full along with all of our other fur fetish scenes. With one hot update every week and our stunning girls only wearing real fur, you can't get more fur fetish thrills anywhere else!
More from us next week with another hot fur fetish scene so wrap up warm and enjoy fur season until then! Look out for our next update on Friday 24th June.
Visit us too at our own fur fetish forum where you can discuss our scenes and what you want from our sexy women in their fabulous furs in the months ahead! Planning is underway for the new season, with new girls, new furs, new locations and other new touches too. It'll be scorching!