Getting distracted from your work too?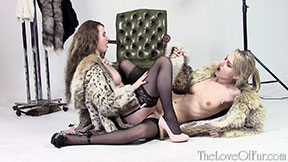 This week's update at The Love Of Fur sees our two hot new models Chloe Toy and Brook Logan getting carried away at work when hired to model fur coats for some lucky photographer. As soon as his back is turned though, our leggy lingerie-clad lovelies can't wait to cuddle up in their fur jackets and stoles, rubbing the soft fur all over their slim sensual bodies and losing their composure! Do they have time to finish their fun before the shoot continues? They don't seem to care much as the fingering, furring and scissoring gets more heated and they cum loudly among the sexy furs around and between them! What fun these girls are to work with!
Click JOIN NOW to sign up and see this video in full along with all of our other fur fetish scenes. With one hot update every week and our stunning girls only wearing real fur, you can't get more fur fetish thrills anywhere else!
More from us next week with another hot fur fetish scene so wrap up warm and enjoy fur season until then! Look out for our next update on Friday 1st July.
Visit us too at our own fur fetish forum where you can discuss our scenes and what you want from our sexy women in their fabulous furs in the months ahead! Planning is underway for the new season, with new girls, new furs, new locations and other new touches too. It'll be scorching!