See how she rolls!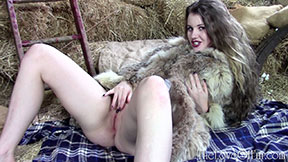 Our latest scene at The Love Of Fur this week stars the elegantly sexy Brook Logan alone in her hay barn waiting for her new member of staff. She's all ready for a ride in her tight jodphurs and leather boots but her gorgeous lynx fur coat shows that she's after a different sort of mount for the day! When he arrives to meet her, she has already started stripping off, expsoing her firm bum and willing wet pussy to him and plunging her fingers inside. The fur is getting her really wild too and is bound to work for him as well! What a game filly – and what games to be had alone with her in the hay!
Click JOIN NOW to sign up and see this video in full along with all of our other fur fetish scenes. With one hot update every week and our stunning girls only wearing real fur, you can't get more fur fetish thrills anywhere else!
More from us next week with another hot fur fetish scene so wrap up warm and enjoy fur season until then! Look out for our next update on Friday 8th July.
Visit us too at our own fur fetish forum where you can discuss our scenes and what you want from our sexy women in their fabulous furs in the months ahead! Planning is underway for the new season, with new girls, new furs, new locations and other new touches too. It'll be scorching!