Time to inspect your handiwork again!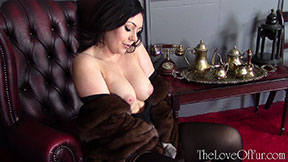 Our latest scene at The Love Of Fur sees more of the divine brunette charms of Kacie James as a very gentle madame at home with her furs. Kneel at her feet as she inspects her long sleek mink coat which feels brand new after its trip to the cleaners. So what better to do than to get dirty in it, eh guys?! Admire her fabulous tits and curves as she reveals all to feel the clean mink against her willing skin and hear her gasp and sigh as the fur massage mitten touches her soft pussy in a very personal way. Shouldn't all ladies of standing have their own furs – and shouldn't they all know how to enjoy them properly too?!
Click JOIN NOW to sign up and see this video in full along with all of our other fur fetish scenes. With one hot update every week and our stunning girls only wearing real fur, you can't get more fur fetish thrills anywhere else!
More from us next week with another hot fur fetish scene so wrap up warm and enjoy fur season until then! Look out for our next update on Friday 22nd July.
Visit us too at our own fur fetish forum where you can discuss our scenes and what you want from our sexy women in their fabulous furs in the months ahead! Planning is underway for the new season, with new girls, new furs, new locations and other new touches too. It'll be scorching!