Hay hay!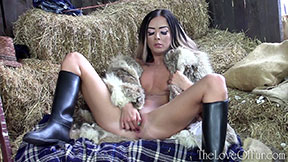 Our latest update at The Love Of Fur this week stars another hot new model in the slim, sexy and very sultry Shateela as a hot stable girl cleaning up the hay barn. In her tight denim bra and hot pants and black leath boots, she is a stunning girl – and more so when she finds a thick soft lynx fur jacket left behind among the hay. How did that get there – and what will happen to it now that she has her dirty little hands and dirtier mind on it. She looks amazing in the fur with nothing but her kinky riding boots underneath it – and she knows it. Just watch what it does to her too as she smothers herself in the fur and rubs and fingers her gaping pussy all alone in the barn. Make hay while the sun shines, Shateela!
Click JOIN NOW to sign up and see this video in full along with all of our other fur fetish scenes. With one hot update every week and our stunning girls only wearing real fur, you can't get more fur fetish thrills anywhere else!
More from us next week with another hot fur fetish scene so wrap up warm and enjoy fur season until then! Look out for our next update on Friday 19th August.
Visit us too at our own fur fetish forum where you can discuss our scenes and what you want from our sexy women in their fabulous furs in the months ahead! Planning is underway for the new season, with new girls, new furs, new locations and other new touches too. It'll be scorching!