Well hello again fur fans!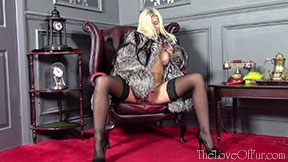 We're back! It's been a very busy few months here at The Love Of Fur towers but we're still around and creating the best fur fetish content for you all! Our latest update this week stars another hot new model the gorgeous busty blonde Lizzy as a sexy french maid who gets all wrapped up in her madam's silver fox jacket. Cleaning takes a back seat to her own needs as her sexy satin uniform comes off and she slips into the soft fox and settles down for some hot fingering and furring. What a babe – imagine having her doing some of your housework in such a fabulous fur!
Click JOIN NOW to sign up and see this video in full along with all of our other fur fetish scenes. With one hot update every week and our stunning girls only wearing real fur, you can't get more fur fetish thrills anywhere else!
More from us next week with another hot fur fetish scene so wrap up warm and enjoy fur season until then! Look out for our next update on Friday 17th February.
Visit us too at our own fur fetish forum where you can discuss our scenes and what you want from our sexy women in their fabulous furs in the months ahead! Planning is underway for the new season, with new girls, new furs, new locations and other new touches too. It'll be scorching!